We provide professional and certified documents translation services in Pakistan. Our translation services range from simple document translations to business interpreting, multilingual research and website localization.
We can provide you quick, professional and accurate results of your translation needs with our network of qualified and experienced translators, interpreters, proofreaders and researchers.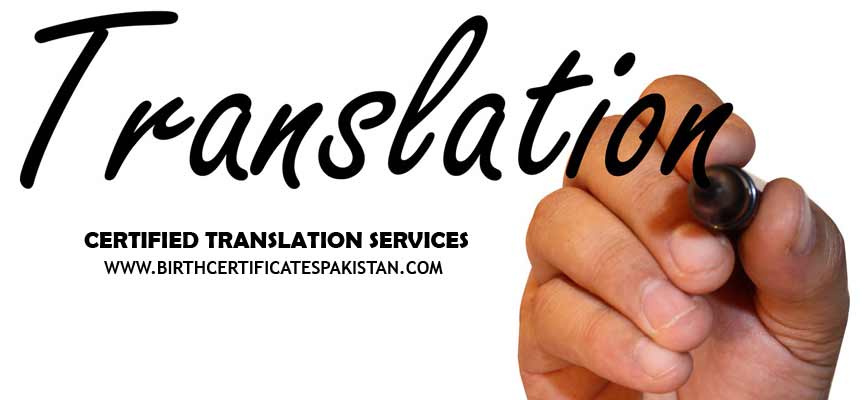 Documents Translation Services:
Languages: We can provide you 100% certified and professional translation services of your documents in all major languages like English, Arabic, Urdu, Spanish, French, Italian, German, Chinese, and Japanese.
Documents: Birth Certificate Translation, Death Certificate Translation, Divorce Certificate Translation, Police Character Certificate Translation, Marriage Certificate (Nikkah Nama) Translation, Degree Certificate Translation, Transcripts Translation, CNIC Translation, Passport Translation.
Cities: No matter where you need our translation services, because we provide online translation services to any Pakistani client living anywhere in the world.
Rates: Our service charges for translation of documents are different for each case depending upon the requirement of our client. We charge discounted amount if client needs multiple translated copies of different documents. Don't worry we always charge reasonable amount against all of our services.
Completion Time: It takes approximately 3-5 working days for getting certified translation of documents in Pakistan.
Website Translation
We have a professional team with years of working experience with businesses from around the world, BCP has great network of translators, programmers, journalists, researchers, and advertising agencies. This means that we can take care of the entire process of translating and localizing your website.
All-in-One service for your website: we can also provide you with a quote for the entire job, which include website development with multilingual support and can then follow up with an SEO campaign to get your site ranking highly in all the major search engines.
Legalization
Once your translated document is complete, it can then be formally legalized for national and international use. Upon completion of the translation, the finished document is signed and notarized by a registered notary public.
———————
We can assist you in Pakistan for translation of your documents. If you need our assistance, please feel free to contact us at service@birthcertificatespakistan.com or Call us at: 0092-300-3929298. OR submit a simple inquiry form